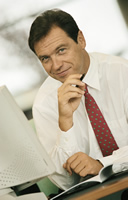 WebCalcs® Software for Advisors
The Easy Way to do Financial Planning - Since 1994!
For Financial Advisors and Insurance Agents: WebCalcs® for Advisors lets you login and create professional looking financial plans on a variety of topics for one low price. Instead of finding a separate desktop app or online calculator for various calculations, login in one place, enter basic data and print a professional branded report in less than 10 minutes.
Time-Tested at Major Financial Institutions including: AXA-Equitable, Pacific Life, JANUS Mutual Funds, Sentry Insurance, TIAA-CREF, Raymond James, and The Hartford.
NOW AVAILABLE FOR INDIVIDUAL ADVISORS AND AGENTS!
You can login to WebCalcs for Advisors and quickly create professional-looking reports for your clients for a variety of financial calculations. For one low price you can access all of these systems in one location. They are time-tested, accurate, and can give you a valuable resource for adding value to your client relationships.
Here is a quick summary list of the financial calculators included right now:



As we add new calculators to the system, the cost to you stays the SAME! So over time, you are getting more and more value for your investment.