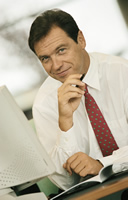 Purchase a Subscription [Scroll down]
The Easy Way to do Financial Planning Calculations
WebCalcs® for Advisors is sold by subscription and is a "Saas" Software-as-a-Service program accessed by an Internet Web Browser from any computer that has internet access. The advantage is that:
- you don't have to download or install anything
- you don't have to worry about whether it's up-to-date each time you use it
- we keep the calculations up-to-date



Pricing and Ordering Online - JOIN NOW
Regular price is $699 annually. Limited First Release discount will be $497 through Dec. 31st only.

or

For the Two Pay plan, it just lets you spread out the initial payment over 2 months, but you are paying for entire year of access.
Regular price is $69 a month. Limited First Release discount will be $47 a month through Dec. 31st only.

NOTE: If you purchased all of these tools separately as desktop tools, you would be spending over $3,000 to get professional tools that cover all of these situations. You would have to download each one, get training on each tool, and check and install updates every time you used one. This service eliminates all those HEADACHES and helps you SAVE TIME and MONEY. In this economy, that all just makes sense.
FAQ - Related to Ordering
Because we've found that people committing to something "FREE" is no commitment at all. Most of the time they don't bother trying it out and then a month later ask to try it "again" for free. In addition, the monthly subscription is only $47 cancel at any time. If you don't like the service you can just cancel it. This is not much of an investment to boost your business, look more professional, and save gobs of hours of time. If you're still cautious, Look at the videos, the sample reports, and the screenshots... they show you EVERYTHING the system can do.
Yes you do! Once you place the order, if your card clears then you will be emailed your access information, so that you can get started right away. This is fully automated so you can order online 24/7/365 and get that client report done just when you need it.
Yes you can. This is something you can cancel if you don't like it. If you get this and absolutely don't like it, notify us within 7 days and we will refund your initial payment even.
After your initial period, we just ask that you tell us before your next payment is charged if you want to cancel. Cancellations made after the payment has been charged will go into affect the next period... i.e. will cancel all future payments. We do not refund past payments, nor do we prorate refund past payments. If you are on an annual plan, you will be receiving emails from us reminding you that your renewal is coming up.


Great for: Financial Advisors, Brokers, Certified Financial planners, Plan Sponsors, 401(k) Fiduciaries, Registered Representatives, Registered Reps, IARs, Trusts, Wealth Managers, and anyone doing basic retirement and financial planning for clients or employees.
Software Specs: Internet-based software runs on any computer that can operate a Web Browser including Windows, Macintosh, UNIX, and Linux. No software installation is required. Runs in your web browser.